Disrupting Acquisition Blog
Acquisition Lessons From Ukraine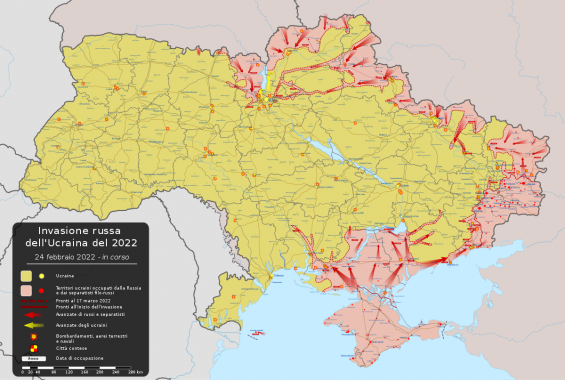 No matter how long the war in Ukraine lasts, one thing is certain: military professionals across the DoD and around the world will study this conflict for years, drawing lessons that are specific to their own domains and specialties. Every combatant command, every intelligence agency, and each operational specialty (armor, aviation, cyber, etc.) will do the same.
Dozens of published articles already offer early perspectives on "What the War In Ukraine Means For The US Army / Space Operations / Cybersecurity / NATO / Etc."). This article invites the defense acquisition community to do the same, asking:
What should the defense acquisition community learn from the Russian invasion of Ukraine?
Viewing the war in Ukraine through an operational lens is relatively straightforward. News outlets are full of real-time data about the conflict, providing information about the relative effectiveness of various weapons, tactics, and strategies. And of course a flood of intelligence reports provide even more detailed analysis for leaders and strategists to review.
Assessing this conflict through an acquisition lens presents a different type of challenge, because the relationships between acquisition policy, weapon system development programs, and operational outcomes are often opaque. While it is too early for the acquisition community to draw very many firm conclusions, it is not too early to put some questions on the table. Several such questions might be asked in any domain, including:
What surprised us? How did we respond to the surprises?
What worked well? What could be better?
If we had known five years ago that this was going to happen, what might we have done to prepare?
What changes should we make to our current policies and procedures?
Other questions are acquisition specific, such as:
1) Russia's invasion has changed and strengthened NATO. It might even lead to an expansion of the alliance. What might this teach us about coordination and collaboration between allies on fundamental research & development? On acquisition and sustainment? On interoperability requirements?
2) The allies are providing Ukraine with Russian-built weapon systems which the Ukrainian military already knows how to operate and maintain. How might this strategy shape acquisition efforts in the future? Should the acquisition community increase its capacity to develop and deliver such systems? How does the Buy American initiative affect this situation?
3) Open source intelligence has been hugely valuable, not only for operational purposes but also for shaping the moral, political, and diplomatic dimension of war. How might acquisition programs take more advantage of or contribute to open source materials? How does open source change an acquisition program's overall investment strategy? Risk profile?
4) Certain technologies and weapon systems (from both sides) have proven to be less effective or relevant than previous estimates suggested, while others proved to be much more effective. Are there any lessons that might improve the way the DoD develops requirements and designs for future acquisition programs?
5) Stinger Missiles have been remarkably effective, but Raytheon reports it will be years before they can build more. What acquisition strategies, policies, or procedures might address or prevent that type of gap?
6) Commercial technology is playing a prominent role. How might the acquisition community take greater advantage of commercial capabilities? How might we build stronger partnerships with industry? How might we increase our awareness of and access to the latest developments?
These are not the only questions to explore, but they are a start. Producing clear, creative, and actionable answers to these questions in a timely manner requires the entire acquisition community to participate.
Defense Acquisition University should certainly lead and sponsor some of this research. They should also incorporate both the questions and the answers into their curriculum. Individual program managers, contracting officers, and developmental engineers should also join in. Other voices that need to be heard include warfighters, maintainers, logisticians, academics, and industry partners.
As we explore these questions, we must be careful to avoid superficial answers based on shallow analysis. It may be tempting to focus on specific battles or situations and draw simplistic conclusions like "Just make more of System X, because that one worked really well."
Instead, we should keep in mind that future conflicts may look nothing like this invasion. We should guard against incorrectly assuming or asserting that this invasion is THE model for all future wars. And so, the acquisition community needs to dive in deeply and use these questions to identify underlying principles and practices that may support sound decision-making, whatever the future might hold.
Map image from Wikimedia Commons
Disclaimer:  The opinions expressed here are those of the authors only and do not represent the positions of the MITRE Corporation or its sponsors.

Subscribe to Our Newsletter