Other Transaction Authority (OTA)
Direct OT Awards
Agencies with Other Transaction authority and Contracting Officers with Agreement Officer Authority can execute OTs, but must establish processes to solicit, evaluate, negotiate, and award OT agreements. It is not advised to leverage FAR processes to execute OTs. There is not a single established process for executing OTs. Projects or programs seeking to use OTs may desire white papers, demonstrations, competitive prototyping, phased down-selects, or any combination thereof to construct a strategy to achieve objectives.
For further guidance about how to plan and execute OT agreements, refer to the OSTP Innovative Contracting Case Studies guide or the OUSD A&S Other Transactions Guide.
OT Consortia
An OT Consortium is a relationship between a government sponsor and a collection of traditional and non-traditional vendors, non-profit organizations, and academia aligned to a technology domain area (i.e., cyber, space, undersea, propulsion) that are managed by a single entity, and focused on innovative solutions to government technology challenges that meet the intended scope and purpose of other transactions.
OT Consortium Model
OT Consortia generally have 3 components, although some government sponsors opt to manage a consortium in-house rather than hire an industry Consortium Manager or Consortium Management Firm. The Consortium Manager is awarded an OT agreement by the government (base OT agreement) and manages OTs awarded to its consortium member organizations (project OT agreements) under the base agreement.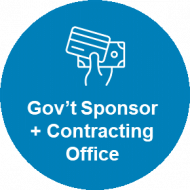 Consortium Sponsor (Government Sponsor and Contracting Office) 
Awards Other Transaction agreement to a Consortium Manager to execute administrative processes and workload (base OT agreement) for a specific technology domain area
Establishes consortium objectives and overarching guidelines to execute the consortium
Selects projects to be awarded to the consortium based on compatability with consortium objectives and appropriateness of project for an OT award
Approves evaluation selection criteria and project OT award selection/s
Consortium Manager (specifics will vary among consortia)
Establishes processes for consortium application, membership terms, collects membership fees/dues* 
Executes consortium member agreements with each member organization
Collects a % of fee for each project OT awarded under the base OT agreement*
In collaboration with the government sponsor, supports government customers to: develop problem statements, requests for white papers, requests for prototype proposals (RFPPs), determine whether demos will be requested, develop phased selection processes, develop criteria to evaluate proposals, etc.
Communicates requests for white papers/RFPPs to consortium members, usually via internal website or portal (some announcements may be public, but the details are usually available only to consortium members)
Facilitates demos and other communication between consortium members and government customer; support demo evaluation and determinations to advance to next phase of selection process
Manages proposal evaluations and project OT agreement award selection/s, negotiations, and cost analysis (gov sponsor ultimately approves)
Manages post project OT agreement award administrative activities on behalf of government customer such as monitoring deliverables, invoice/payment tracking, and reporting (gov customer is responsible for day to day activities with contractor/s)
Maintains "library" of proposals not selected/not funded for potential future use for current gov customer or new gov customer
*membership fees/dues and % of fee for award vary among consortia. See Existing OT Consortia page for individual consortium information.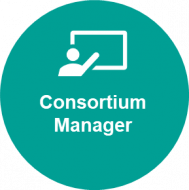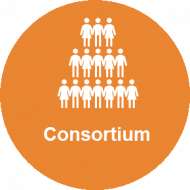 The Consortium
A consortium is established to support a specific technology domain area (i.e., cyber, space, undersea, propulsion)
Consortium membership is open to qualifying US entities (varies by consortium):

Traditional/non-traditional contractors
Non-profit organizations
Academic institutions

Some consortia open to foreign entities
Qualifying entities may join one or multiple consortia
Consortium members are subject to terms of membership, which may include an annual membership fee and a fixed-percentage fee applied to each project OT agreement awarded
Members typically have access to requests for white papers, requests for prototype proposals(RFPPs), etc. from government customers specific to the consortium
Some consortia managers may facilitate partnering opportunities among members
Members may be able to partner with other members to propose solutions
Traditional contractors must be prepared to meet cost-sharing requirements of other transaction authorities
Members may negotiate unique terms and conditions for individual projects
Members that receive project OT awards will be assessed a % of fee by the consortium manager in accordance with consortium terms and conditions
Pros and Cons of Consortia
Pros
A pool of vendors aligned to consortium focus area (i.e., cyber, space, undersea, propulsion) promotes an environment for collaboration with the government and with other consortium members.
Consortia execute OT agreements which allow for a more collaborative process than traditional FAR processes that are bound by rigid source selection statutes and regulations.
Consortia have established streamlined processes that quickly move through white papers, demos, proposals, evaluations, and selections and often execute awards more quickly than traditional government acquisition programs.
Cons
Non-traditional vendors, non-profit organizations, and academic organizations may be challenged by the financial considerations of consortia membership due to fees and % of award fees charged by consortia.
Some consortia are in high demand by government customers and are thereby resource constrained. This can due to volume of work for the consortium or by the availability of the assigned government contracting office. 
Many consortia do not award follow-on production activities. 
Sample organizations in each component of the OT Consortium Model
for illustrative purposes only | all organizations not represented

Questions to Ask when Shaping an OT Strategy
Does my organization currently have Congressional authorization for OTs?
What is the timeline for using an OT mechanism? How soon can the program office begin and how well does the OT timeline align with existing schedule plans?
How will the funding arrangements work (timing, amounts, color of money, etc.)? When are funds available?
Will the organization's approval authorities grant permission to use an OT? What additional information is necessary to gain their approval?
Do our Contracting Officers have experience with OTs and Agreement Officer authority?
Resources
Reports
Articles/News Clips
Other Transactions – Best Practices to Enable Success, National Defense, April 2020
OTA Prototyping Nearly Triples To $3.7B: GAO, Breaking Defense, Nov 2019
OTA: Saint or Sinner for Defense Acquisition, Acquisition Research Journal, Apr 2019
Debunking the Hype Involving OTAs, Contract Management Magazine, Mar 2019
Defense industrial bases' perspective on Other Transaction Authority, Gov't Matters TV, Oct 2018
Navy Leverages OTA with New $100M Consortium, Gov't Matters TV, Jul 2018
GOVCON Mythbusters: Other Transactions in FedGov, The Pulse, Jun 2018
The Use of Other Transaction, Frank Kendall on Gov't Matters TV, Jun 2018
Lawmakers move to tighten OTA production authorities after REAN Cloud controversy, Inside Defense, Jun 2018
The Scary New Contracting Model That Isn't Scary or New, NextGov, Mar 2018
The Gatekeepers of the Government's Other Transaction Deals, NextGov, Apr 2018
The case for innovation: Let's broaden Other Transaction Authority, Rich Beutel, Mar 2018
Pentagon's $1 Billion Cloud Deal May Signal New Era in Government Buying, NextGov, Feb 2018
Use of "Other Transaction Authority" in DoD acquisition shop, GovMattersTV, Feb 2018
Is DISA getting innovation by using OTA for new background investigation system?, FedNewsRadio, Feb 2018
Air Force launches new project to update missile-warning ground software, SpaceNews, Jan 2018