Disrupting Acquisition Blog
In reading a recent CNAS article on AI, Paul Scharre referenced Will Roper as the former "Chief Acquisition Officer for the U.S. Air Force". I immediately thought CAO has a much better ring to it than Air Force Service Acquisition Executive or Assistant Secretary of the Air Force for Acquisition, Technology & Logistics.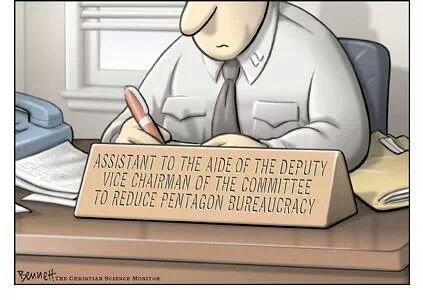 Executive
Across DoD there are Service Acquisition Executives (SAEs) for the Army, Navy, and Air Force, and Component Acquisition Executives (CAEs) for the many DoD Components (Agencies, COCOMs, etc.) with acquisition authorities. The Defense Acquisition Executive (DAE) is the Undersecretary of Defense for Acquisition and Sustainment (a shorter name than the predecessor role). Each of the SAEs formal titles align with their Service executive roles, with the acronyms ASAF/AT&L, ASN/RDA, and ASA(ALT).
I personally like the Chief Acquisition Officer (CAO) title better. CAOs regularly collaborate with CIOs and CTOs across DoD along with Industry CEOs. It also removes the Service vs Component distinction.
Portfolios
For years I've taken issue with the Program Executive Officer (PEO) title as DoD's acquisition, budget, and requirements structure and processes are too program centric. PEOs oversee acquisition portfolios. Instead of overseeing dozens of stovepiped programs, PEOs should be responsible for regularly delivering an integrated suite of capabilities via a portfolio. A simple change is Portfolio Executive Officer, which keeps the PEO acronym. Aligning it with the new CAO title would be Portfolio Acquisition Officer, yet in DoD, PAOs are public affairs officers. Portfolio Acquisition Executive (PAE) would be my choice.
My colleagues and I have written extensively on the need for better portfolio management across DoD. Our recent Five by Five paper also reinforces the need for tighter integration of acquisition, requirements, and budget structures, processes, and culture. The current PEO structure provides a solid starting point to shape mission or capability area portfolios and more closely align requirements, budgets, and acquisitions. Focusing at a portfolio level will enable greater flexibility, innovation, and interoperability. In addition to the acquisition executive at the portfolio level, DoD should establish portfolio executives for budget and requirements to partner with acquisitions.
Programs
Program Managers (PMs) are linchpins to connect key stakeholders to develop and execute program strategies. While every program should have a clear PM, each of the Services and Agencies created some ambiguity around the PM role. The Air Force and Space Force have a Materiel Leader (O-5/GS-14). Senior Material Leader (SML), often an O-6/GS-15, and added SML Upper and Lower. The Army has Product and Project Managers and Directors, Assistant and Deputy Product/Project Managers and Product/Project Leads. The Navy also has PMs and APMs. This was driven in part due to a previous version of DODD 5000.01 focused on Streamlined Organizations. "The Department of Defense shall use a streamlined management structure in the acquisition system, characterized by short, clearly defined lines of responsibility, authority, and accountability. In no case, shall there be more than two levels of review between a PM and the MDA."
At the time, the USD(AT&L) was the MDA for over 2/3rds of the MDAP and MAIS programs. SAEs were the MDA for the remaining ACAT I and most ACAT II programs. Within most PEO organizations are a handful of divisions led by an O-6/GS-15 level director. Within each division are the programs, led by program managers. The Services needed to be creative with titles as PMs would have 3-layers between them and the MDA. The nuanced titles were also to address the span of control so a PEO didn't have 15-20 PMs directly reporting to them.
Over the last few years, Congress weighed in and broke up AT&L into A&S and R&E, drove delegation of all but <10 MDAPs to the Services, and eliminated MAIS statutes. Now the SAEs/CAEs are the MDA/DA for most ACAT I programs, while the PEOs (or delegate) are the MDA/DA for most ACAT IIs, IIIs, and software programs.
The new DODD 5000.1 no longer includes the two-level mandate, but it is still a good practice to follow. USD(A&S) also issued a Back to Basics memo in Sep 2020 to restructure and consolidate the acquisition workforce into six core functional areas.
With decisions delegated down to lower levels, the DoD can transition back to the core intent – let the Program Managers be Program Managers. The <10 PMs of the biggest MDAPs with DAE oversight could be direct reports to their PEOs, as could most MDAP PMs who are O-6s/GS-15s. For the remaining ACAT II-IV, MTA, and SWP PMs, they can report through Program Directors to the PEOs. In most cases the program will only have one level of review between the PM and the decision authority to enable speed of delivery. Junior officers can be Project Managers leading key elements of an acquisition program.
Summary
Moving forward, I would love to see a simple, consistent structure as follows:
USD(A&S) -> DoD Chief Acquisition Officer (DoD CAO)
SAEs/CAEs -> [Service/Agency] Chief Acquisition Officer (CAO)
PEOs -> Portfolio Acquisition Executive (PAE)
Variety of roles -> Portfolio Budget Executive (PBE) and Portfolio Requirements Executive (PRE)
SML/ML, APM, etc. -> Program Director (PD), Program Manager (PM), and Project Manager (PJM)
This enables a common structure across the Services and Agencies, drives modern management approaches, and reinforces the streamlined oversight chain.
Disclaimer:  The opinions expressed here are those of the authors only and do not represent the positions of the MITRE Corporation or its sponsors.

Subscribe to Our Newsletter