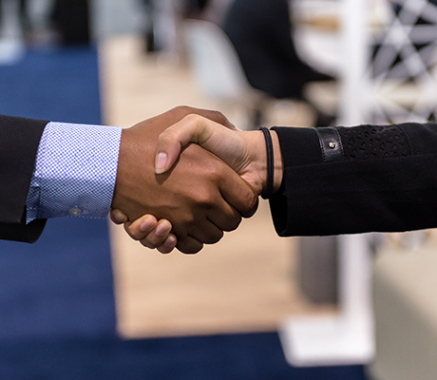 As most startups and small businesses realize, you may not have all the necessary insights, technical solutions, or production capacity to close the deal. This is where bringing in one or more partners come into play. 
If you've never done business with the DoD, even with a helpful site like this one, it may be prudent to partner with a company that understands the core processes having navigated them before. They can offer keen insight into the DoD's selection processes, and understand risks, timing, and the customer space to target the real needs and opportunities. 
You may have a promising new technology to offer DoD, but it likely needs to be integrated into a broader system, network, or suite of capabilities. Finding a partner that has established contracts and contacts in your targeted space reduces the integration risks and can help you to effectively integrate the designs and optimize performance. Alternatively you could team with a few other companies that offer complementary functionality to offer DoD an integrated solution vice just one piece of the puzzle for them to assemble. 
The prime contractors and large companies that do a lot of business with the DoD have a broad supply chain and are constantly looking for new technologies and solutions to strengthen current systems and compete for new major contracts. They can help fund and shape your research, integrate your technologies into the major systems, and help scale production beyond your capacity. Having insight into who the major companies are in your targeted business segments, you could reach out and explore sub-contract opportunities for multiple prime contractors for an upcoming solicitation. 
Experienced partners can help you address key requirements like security clearances, registration in government databases, and ensuring compliance with accounting, cybersecurity, and auditing standards. An experienced, trusted partner is your personal guide to navigate the defense contracting wilderness! 
Opportunities to Find Partners
Trade Associations
You can join one of the many trade associations tied to national defense and Federal contracting. We recommend you visit some upcoming events and webinars to understand the hot topics and leading members. 
National Defense Industrial Association (NDIA): Comprised of its Affiliates, Chapters, Divisions, and 1,650 corporate and 70,000 individual members, it is a non-partisan, non-profit, educational association that has been designated by the IRS as a 501(c)3 nonprofit organization – not a lobby firm – and was founded to educate its constituencies on all aspects of national security. For 100 years, NDIA has provided a platform through which leaders in government, industry, and academia can collaborate and provide solutions to advance the national security and defense needs of the nation.
Aerospace Industries Association (AIA): Chief Executive Officer – level officers from across more than 300 member companies guide these efforts, strengthening the industry's ability to effectively support America's national security and economy. AIA works with member company representatives through councils and committees to advise the government on critical issues and cultivate a unified perspective on the many challenges and opportunities facing the industry. 
Professional Services Council (PSC): PSC's more than 400 member companies represent small, medium, and large businesses that provide federal agencies with services of all kinds, including information technology, engineering, logistics, facilities management, operations and maintenance, consulting, international development, scientific, social, environmental services, and more.
Defense Entrepreneurs Forum (DEF): Promoting a culture of innovation in the national security community. DEF inspires, connects, and empowers people by convening events, forging partnerships, and delivering tangible solutions to promote a culture of innovation in the U.S. national security community. 
Air Force Communications and Electronics Association (AFCEA): AFCEA is a member-based, non-profit association for professionals that provides highly sought after thought leadership, engagement and networking opportunities. AFCEA focuses on cyber, command, control, communications, computers and intelligence to address national and international security challenges.
Business Executives for National Security (BENS): BENS is a unique nonprofit comprised of over 400 senior business and industry executives who volunteer their time and expertise to address the national security community's most pressing challenges. Focused originally on restraining proliferation of nuclear arms and reducing defense overhead, BENS today leverages the diverse expertise of its membership to support government efforts that tackle other prominent challenges; from cybersecurity to talent management. 
IT Industry Council (ITI): ITI advocates for improved procurement policies and practices, while identifying business development opportunities and sharing market intelligence with industry participants on the Federal, state, and local levels of government.
Industry Days
As part of the contracting process, the DoD will often hold one or more "Industry Days" events to meet with companies to communicate their requirements, plans for an upcoming contract, solicit feedback, and identify interest from industry. These events are invaluable for companies to network with each other to identify partners to strengthen their offering to win the contract. Attending these events with a clear pitch of your offerings will help you make valuable business development connections. 
OT Consortia
There are currently 30+ DoD and Intelligence Community sponsored Other Transaction Consortia organized around key technologies and/or mission areas. Dozens of companies, with a focus on non-traditional companies, collaborate and compete on research and prototyping projects, with the potential for follow-on production. Joining an OT consortium exposes you to many other companies and DoD organizations that may offer partnership opportunities to collaborate on studies, S&T, and R&D projects. Successful efforts may progress to major development and production contracts.