Disrupting Acquisition Blog
Pentagon Wars 2020: The Return of the Bureaucrats
As the United States advances in the Great Power Competition, one thing is certain – the DoD must increase its speed, agility, and innovation. This new era offers greater threats and challenges we had not seen in the Global War on Terror or the Cold War. China is reaching parity with the U.S. economically, technically, and militarily, which in some sectors they have a significant competitive advantage. As the National Defense Strategy (NDS) clearly lays out, the DoD must:
"Deliver performance at the speed of relevance.
Success no longer goes to the country that develops a new technology first, but rather to the one that better integrates it and adapts its way of fighting." 
Furthermore, the NDS outlines DoD's needs to:
Organize for innovation

Streamline rapid, iterative approaches from development to fielding

Harness and protect the National Security Innovation Base

Modernize key capabilities

Evolve innovative operational concepts

Strengthen Alliances and Attract New Partners
Congress has been a valuable partner with the Pentagon and in many ways an accelerator for delivering lethal solutions. Over the last five years Congress directed dozens of reforms to streamline the bureaucracy, delegate decisions to lower levels, and charter new acquisition pathways for rapid solutions and software. 
Over the last three years, the DoD has made more progress on improving acquisition than I've seen in the last 25 years. The biggest change was delegation of milestone decision authorities from senior DoD levels to the Service Acquisition Executives, who have further delegated programs to Program Executive Officers and their directors. This is invaluable for decisions to be made and strategies approved by those closer to program execution. This can save months or in some cases years in program schedules by not having to coordinate with dozens of organizations across the Pentagon. Program managers can spend less time in Washington and more time with their users, contractors, and program office focusing on delivering capabilities for mission success. In addition to schedules, this reduces costs and risks both in acquisition and most importantly, operations. 
Acquisition executives and programs have embraced new acquisition and contracting methods to rapidly prototype solutions, tap non-traditional companies, and award millions in contracts within hours via pitch days. They are expanding the National Security Innovation Base to rapidly exploit leading technologies for military advantage and fueling commercial investments in small businesses that offer promising solutions. DoD has a flurry of new rapid capability, industry outreach, and innovation organizations. They are tailoring acquisition, contracting, testing, and systems engineering processes to adopt modern software development practices with users to enable rapid, iterative deliveries. They are thinking beyond the textbook solutions in outmoded policies. 
These efforts represent a drastic change to the defense acquisition system from the last 20 years. Chris Brose captured the previous era perfectly in his new book The Kill Chain: 
"Washington sacrificed speed and effectiveness in the [DoD] for the hope of cost savings and efficiency, and it ended up with neither.
It is as if America defeated the Soviet Union and then went about adopting the Soviets' military procurement system."
We've seen this pendulum swing drastically over the last few decades. In the middle of the 20th Century we saw thousands of companies iteratively delivering game changing capabilities from massive rockets to stealth technology. The military industrial complex grew in the subsequent decades, but the Last Supper in 1993 led to massive consolidation around a few primes. The DoD focused its investments in fewer major weapon systems with winner-take-all contracts that defined industry segments for a decade or more.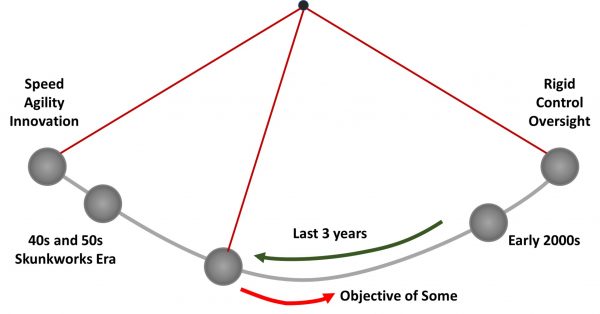 With the decline of competition, cost increased while innovation decreased. DoD was vendor locked with its prime contractors and starved the pipeline of future systems. Even with billions in science and technology and research and development projects each year, only a small percentage of solutions crossed the Valley of Death into fielded systems. This was due to the massive Pentagon bureaucracy restricting program changes, risk of Nunn-McCurdy breaches by expanding scope, and perverse incentives by defense primes. Some Pentagon executives compounded the issue by waging a war on contractor profits, which discouraged new R&D investments and drove talent to commercial markets with higher margins. 
Most DoD and Congressional leaders finally understand the clear and present danger from China and other major adversaries. The NDS lays out the case and clear vision for DoD's future. Major reforms, initiatives, and new organizations have rolled out over the last three years with some early wins and huge promise going forward.
Yet there are some within the Pentagon and the surrounding community who resist this change.
They see these reforms as foolishly running with scissors. That programs will sacrifice cost, cybersecurity, and sustainability simply for speed. There are many who have served in functional oversight organizations for the last decade who simply fear these changes. Someone moved their cheese and they're not happy. That without their critically important program oversight to check and double check their requirements, technical design, cost estimates, contracting, test, and sustainment strategies to ensure compliance with the mountain of regulations, these programs will fail. Most have good intentions to help DoD be successful. Some may not fully appreciate how much the world has changed and the risk imposed by too much oversight. Some are outright hostile to these reforms and are actively working to stop or reverse them.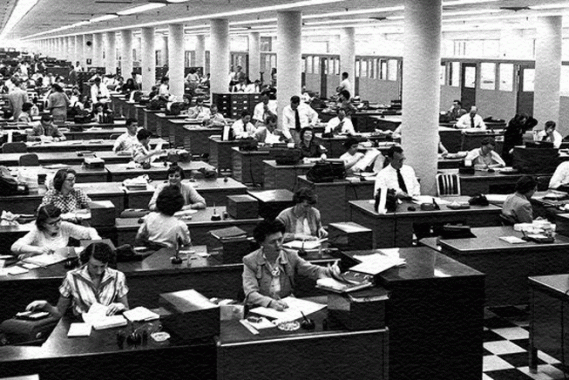 To be clear, there are valuable needs for proper oversight and controls of major weapon systems. If you plan to spend a billion dollars of taxpayers' money to develop and produce complex weapon systems to shape future wars, there needs to be proper checks and balances.
All of this requires a delicate balance of speed WITH rigor.
Imposing legacy acquisition controls on new rapid and software acquisition pathways will only sabotage them.
Similarly one cannot sacrifice sound program management simply for speed. This is all about balancing risk. As operations, technologies, and threats continue to shift to space, cyber, autonomy, and AI/ML, we must modernize our enterprise to effectively acquire and operate them. We must continue to modernize our practices to keep pace with changes in technologies and operations. For those in oversight roles, what must be done at your level and what should be done at subordinate levels? If we're going to add a review or document, how can we tailor the content to focus only on the value added efforts and streamline coordination timelines to support accelerating deliveries? 
DoD needs to invest in many more small and mid-size solutions to complement the exquisite billion dollar weapon systems. This includes iterative deliveries of capabilities with shorter lifespans to complement the major platforms designs to last many decades. This allows opportunities for many more government and industry experts to rapidly exploit technologies and fuel a range of innovative military solutions. 
DoD cannot afford to swing the pendulum back towards rigid Pentagon control and oversight. China and others are accelerating ahead. We must continue to build on the initiatives over the last few years, while balancing risk, to fuel a new era around speed, agility, and innovation. 
Disclaimer:  The opinions expressed here are those of the authors only and do not represent the positions of the MITRE Corporation or its sponsors.

Subscribe to Our Newsletter