Disrupting Acquisition Blog
Oversight, Delegation, and Assuming Responsibility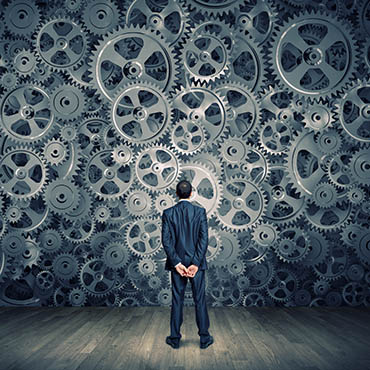 ​"The U.S. Air Force must work differently with other DoD stakeholders, Congress, and both traditional and emerging industry partners to streamline processes and incentivize intelligent risk-taking. Most importantly, we must empower our incredible Airmen to solve any problem."

Gen Brown, Chief of Staff of the Air Force, Accelerate Change or Lose
A lesson I learned over 20 years ago still stays with me today as the issue continues to play out across DoD acquisition. As the executive officer in a large program office, one of my duties was to review officer performance reports (OPRs) before the program director approved them. Below the program director and the deputy was the Chief of Integration, who served as the COO of the program. He was the one running the show from program strategies and execution to personnel matters and daily operations. He was the best at perfecting OPRs.
For those not aware, the OPR is the annual summary of your performance. It has a strict structure of what it entails to capture your efforts and impact. Every character and space are counted to cram as much goodness into the two pages as possible. There are key words to include to let reviewers read between the lines on the individuals' true performance among all the glowing reports. These were central to your official record, integral to promotions, assignments, competitive education programs, and career opportunities.
The senior officers would draft OPRs on the junior officers. Some were better at it than others. Some invested more time in it than others. When they came to the front office, the Chief of Integration would scrub them to ensure they were accurate, polished, and included all the key elements that selection boards would look for. He wanted to ensure our officers were best represented, their OPR reflected all their hard work and impact over the last year, and strengthened their career opportunities.
He was a workaholic, regularly working nights and weekends. So much so that the director one day ordered me to escort him to his car at 6pm so he wouldn't work until late hours of the night. Come to find out, after we both got in our cars and drove away, he circled back to the office and put in a few more hours. He focused relentlessly on getting the job done that he didn't make time for his own professional military education following an overseas tour. Everyone who knew him would argue he was a shoo-in for promotion to colonel. Yet because he didn't check the box, the promotion board didn't select him.
The senior officers knew their draft OPRs would be scrubbed extensively. I suspect some appreciated it while others resented the rework. We saw trends where some managers would "mail it in" with a low-quality submission, knowing the Chief of Integration would fix it. There was one OPR I remember, where I put almost as much red ink on the report than the typed black ink content. Keep in mind, I was a first lieutenant grading the work of a lieutenant colonel with 15-20 years more experience. Yet having seen dozens cross my desk and knowing the insider tips, I knew what to look for. In returning it to the manager, and they saw all the red ink, they said: "Wow, I guess the [Chief of Integration] really tore this one up." I had to tell them, "Um, no, that was me. He hasn't seen it yet."
The Chief of Integration and I talked about the trends. Did their quality of work diminish because of the thorough scrubbing that the front office would do? Did they assume there would be others to catch their errors? Did they believe since it was going to get redlined extensively, do not put as much time and energy on the first submission, knowing there will be a round two? The Integration Chief would often have manager-to-manager discussions along the lines of "this isn't great quality; I expect more of you."
To drive change, the Chief of Integration held a training workshop with the supervisors on how to write impactful OPRs and we developed a paper that provided supporting guidance and tips for success. We saw higher quality submissions after that.
Tying this back to DoD acquisitions, one of the biggest trends of recent years was delegation of Milestone Decision Authorities. Congress pressured OSD to delegate authorities to the Service Acquisition Executives (SAEs) who in turn delegated many of their smaller programs to Program Executive Officers (PEOs). With each level of delegation, it is not just removing a single approval authority, but all their peer executives across functional areas at the OSD or Service level. We lauded these delegations to ensure greater speed of decisions by those closer to program execution.
The other key factor beyond speed is that leaders assume greater responsibility.
Consider this scenario. You are a PEO (who should be THE Rockstar linchpins of DoD acquisition). You have 25 years of experience, overseeing a portfolio of dozens of programs that execute over a billion dollars annually.
The program manager of a major program is a Colonel or GS-15, with 20-years of experience, Level III certified, and running a large organization. They submit their acquisition strategy for approval. In the previous environment, the program manager would submit to the PEO (along with some middle management), who would send it to the SAE (along with some middle management of SAE staff and peers across many Service HQ staffs), who would then send it to the USD(A&S) (along with extensive middle management and peer organizations) for approval. GAO found 40 organizations may coordinate.
Depending on the size, complexity, and visibility of the program, not to mention quality of the strategy and performance to date, the acquisition strategy would be extensively scrubbed. Many opinions, meetings, and decisions would drive extensive rework into the strategies. As the months go on, the program manager's focus would go from championing and defending their strategy to being worn down to accept nearly any change just to get their damn strategy approved so they could proceed. When everyone is in charge, no one is. When you must go to many oversight boards that drive towards consensus over bold decisions, "one no can stop the show." Many abused their veto power to drive compliance with their policies and detailed expectations, which drove programs crazy with delays and rework.
Now as a PEO, knowing you were just one of a series of layers of reviews, you would review the strategy to ensure sufficient quality, given the extensive visibility, but not spend too much time knowing the schedule pressure and additional reviews ahead.
But now let us assume the program's decision authority was delegated to the SAE or even to you. Now the onus is on you to ensure the program has a sound strategy. You may spend more time reviewing the strategy and discussing details with the program manager. Over time, you have become smarter because you have to up-your-game to provide effective leadership and oversight, instead of just being one of many "middle managers" in a large bureaucracy. You also likely learned some tough lessons from mistakes made by you or your programs.
A few years ago we wrote in a paper, Authority, Autonomy, and Accountability, about an "empowered culture prioritizes learning through trial and error, decentralized control, experimentation, spontaneity first, and embrace of risk and uncertainty. This implies a certain degree of autonomy, to include the ability to make and correct mistakes."
While the delegation of decision authorities is only a few years in the making, it will be interesting to see the longer-term ramifications.
Were decisions approved faster, resulting in accelerated schedules and deliveries?
Were smarter decisions made because the authorities were closer to program execution?
Were failures tolerated and lessons learned to course correct on program strategies?
With fewer oversight boards across the Pentagon, was the expertise distributed more to Service and portfolio executives and staffs?
When given greater authorities, do the good managers stick around longer and become more successful over time? This is a HUGE part of the acquisition culture!!
In this new era for acquisition, we must reinforce unity of command, speed of decisions, and empowering good people to deliver better capabilities faster. Good people will not stick around to be just another cog in the big bureaucratic machine. To succeed in the Digital Age, we need to unleash an empowered culture.
Disclaimer:  The opinions expressed here are those of the authors only and do not represent the positions of the MITRE Corporation or its sponsors.

Subscribe to Our Newsletter