Middle Tier – Air Force Phases
Middle Tier Acquisition
(Section 804)
Dr. Roper, Air Force Service Acquisition Executive outlined four tailorable acquisition phases for a Section 804 prototype in his AF Guidance Memo on Rapid Acquisition Activities.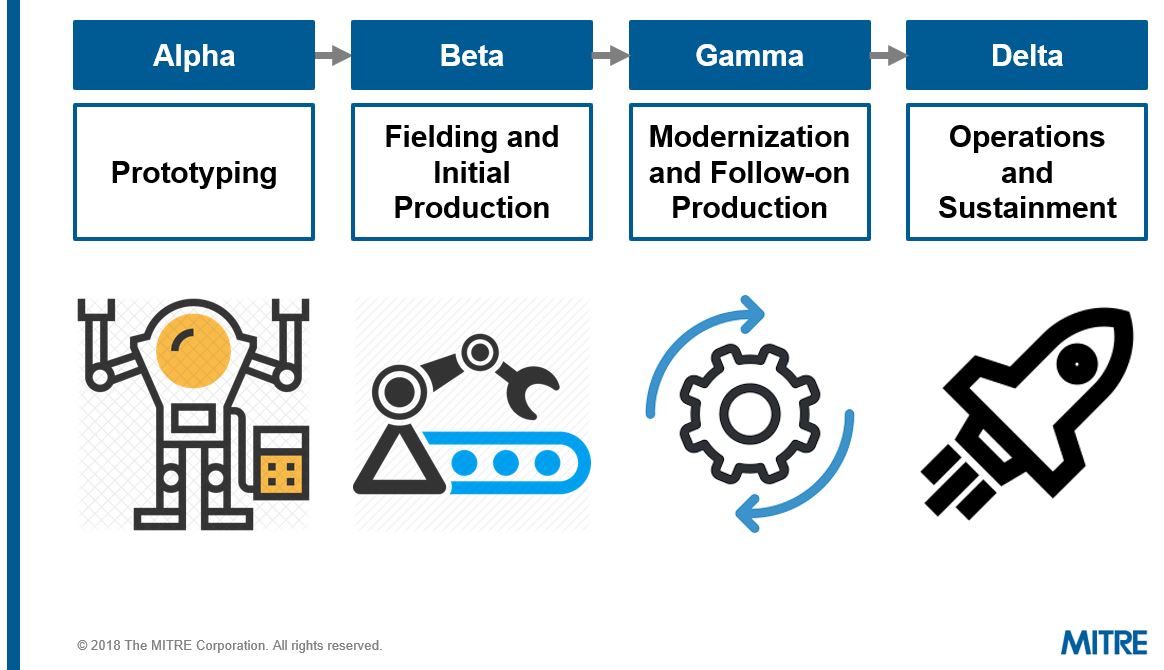 Alpha Phase: Prototyping
The Alpha Phase should be based on guidance in this memorandum and the memorandum dated 10 Apr 18.
Prudent risks can and should be undertaken unless mission criticality or operational urgency mandate a lower-risk approach. Risk/reward balance should be addressed and documented in the Acquisition Strategy Document (ASD).
The PM should set design goals (e.g., digital engineering, open architecture, software-defined functionality, agile software development, net-enablement, incorporation of artificial intelligence) that may not be necessary for achieving the cost, performance, or schedule objectives of the prototype but that might enable easier capability improvement and sustainment throughout the life of the system.
Schedule and funding defined in the ASD should be considered relatively fixed; consequently, the PM should determine when design goals introduce unacceptable risk to on-time, on-cost prototype delivery and demonstration. The PM should trade performance objectives to maintain schedule and budget.
The MDA will subsequently decide whether the demonstrated performance is sufficient for subsequent fielding (given lifecycle considerations and operational needs) or whether a subsequent prototyping phase is needed/merited.
The opportunity for successive rapid prototypes—vice premature creation of a Program of Record—is what enables smart risk taking in this phase. Strive to overachieve early on and fallback as reality intervenes.
Beta Phase: Fielding and Initial Production
The Beta Decision is of paramount importance. The MDA and PM will ensure prototyping efforts have aggressively tackled all cost-, schedule-, and performance-driving risks and conducted an operationally-relevant demonstration prior to initiation of a rapid fielding effort. This decision must terminate technically-flawed, prohibitively-costly, or operationally-unwieldy concepts with extreme prejudice.
Unlike traditional acquisition, rapid acquisition activities will not be considered Programs of Record until entering the Beta Phase.
Gamma Phase: Modernization and Follow-on Production
The Gamma Decision should be based on balancing needed quantities, purchasing efficiencies, and upgrade options. Since the Alpha Phase design should prefer characteristics like open architectures, standard interfaces, and/or flat designs, this phase should assess the merits of increasing production of current system configurations versus spiral modernization based on operational need, training, sustainment, and industry base considerations.
Smart modernization is encouraged over sustainment of obsolescing, less-effective, and more-costly systems which are readily available or producible.
Delta Phase: Operations and Sustainment
The Delta Phase should mark the end of production but not improvement. System components, especially software, should be continually improved—vice merely being replaced or refreshed—assuming preferred upgradeable design approaches (discussed in Paragraph 2.4) are achieved.
Improvement options should be balanced against operational need, training, sustainment, and industry base considerations.
Note: Paragraph 2.4 is: The MDA for a rapid acquisition activity will:

Initiate the rapid acquisition activity and ensure it meets the criteria for the Section 804 authority being applied.

Approve an acquisition strategy, acquisition oversight milestones, metrics and execution guardrails (i.e., thresholds that trigger a notice to, and/or review by, the MDA), timing and scope of decision reviews, and required program documentation.

Ensure rapid fielding efforts have validated requirements prior to commitment of funds unless waived by the SAE.