Middle Tier Acquisition
(Section 804)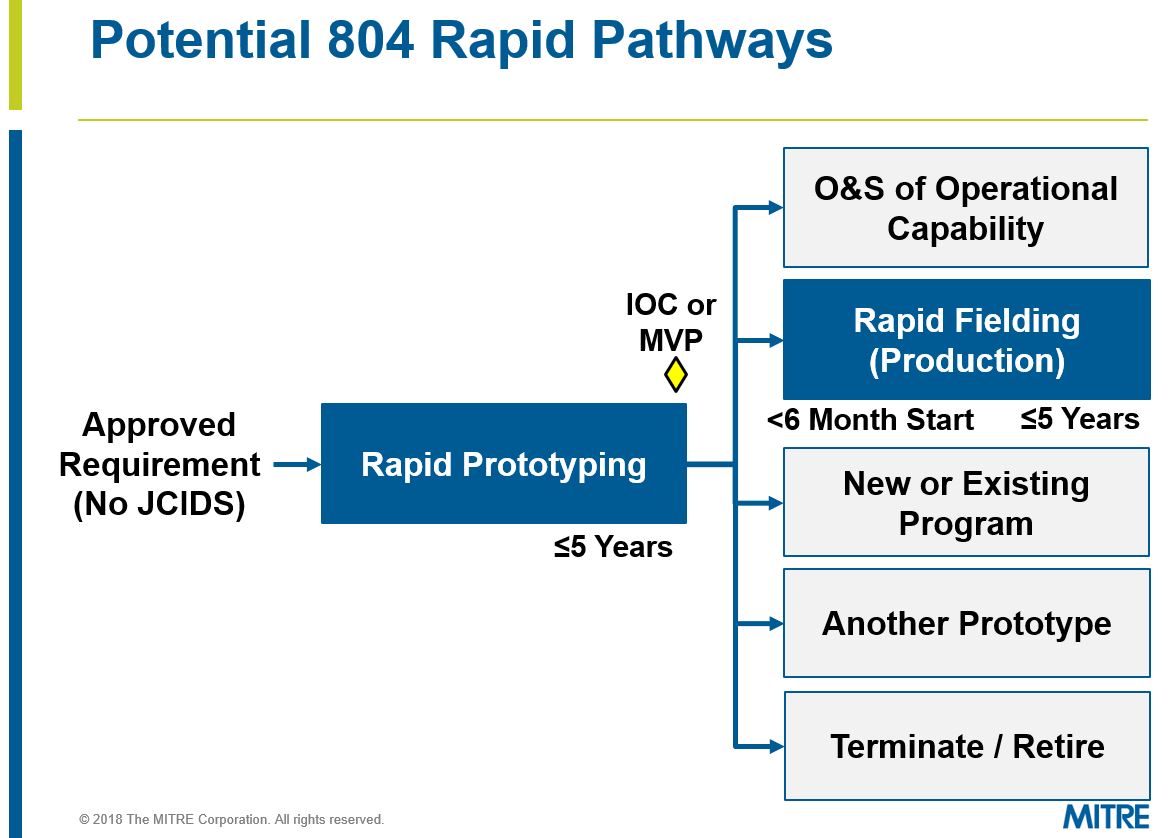 Navy
Successful Rapid Prototyping projects not transitioning into Rapid Fielding shall transition into an existing acquisition program, a new acquisition program, or the residual capability can be sustained in the field
Fielding of Rapid Prototypes. The PM is not required to enter Rapid Fielding to continue to operate initial prototypes in the field if desired by the requirement community and the Acquisition Decision Authority. Instead, the PM will development an appropriate sustainment package to support the items in the field until they are dispositioned.
Transition to Acquisition Program. Where production exceeds the five year limit on Rapid Fielding, or the program would be more appropriately managed under a traditional acquisition pathway, the Acquisition Decision Authority may transition the program to a traditional acquisition pathway at an appropriate milestone.
Under the DODI 5000.02 and JCIDS, such programs shall be subject to, appropriately tailored when possible, the statutory and regulatory requirements for their respective ACAT designation.
Air Force
Rapid prototyping actions will end with the MDA determining if the effort results in a subsequent prototype, initiation of rapid fielding, transition to a traditional program, inclusion in an existing program, or termination.
Army
Transition. Upon successful operational demonstrations addressing validated requirements, rapid prototyping efforts should transition into procurement and fielding via rapid fielding authorities, incorporation in a current acquisition program or modification of a fielded system. As shown in Figure 2, transition to fielding can occur in multiple ways.
Example 1 shows that during rapid prototyping there can be an off ramp to allow for fielding an increment prior to the end of the five-year timeline. When transitioning to rapid fielding, the requirement will need to be revalidated, production will need to start within six months and fielding must be finished (as defined by the AROC) within five years. Additionally, the original prototyping effort may lead to a follow-on development that would lead to a separate fielding.
Example 2 shows a prototyping effort leading to both an initial fielding and the development of another rapid prototyping effort. In this example, rapid fielding of the original MTA must be completed within five years. If the MTA developed technology leads to another rapid prototyping effort, this will reset the five-year timeline.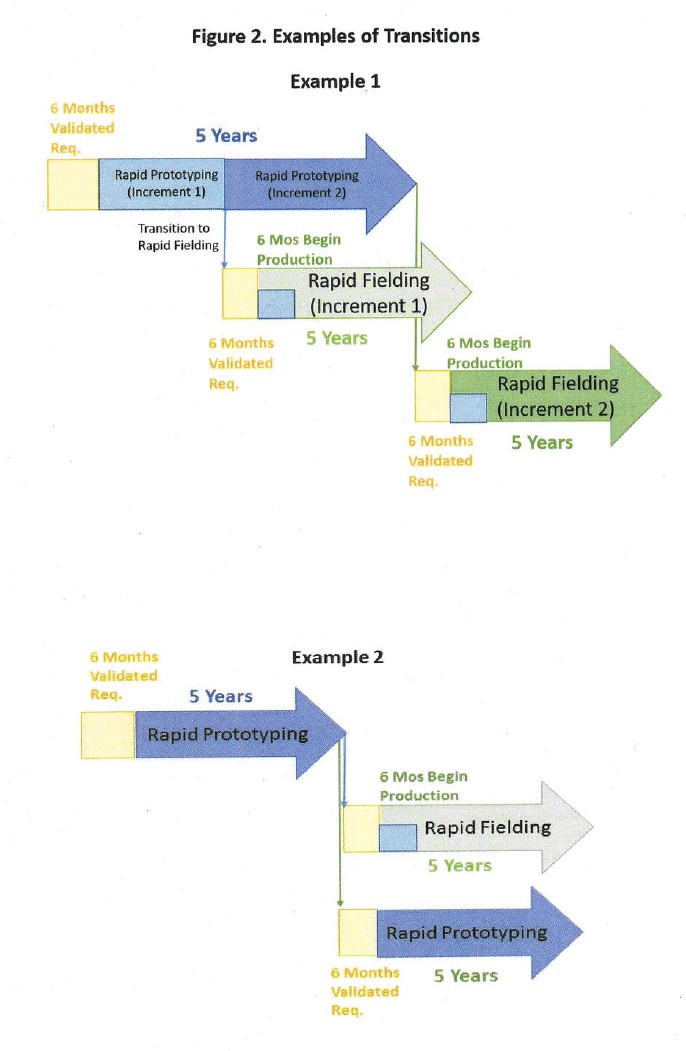 In example 3, the production off ramp leads to fielding the mature prototype through the traditional fielding method via a program of record. In this example, the fielded capability is not bound by the five-year limit that is associated with rapid fielding. This list of examples is not all inclusive.